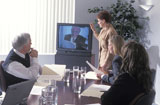 Technical Translator "Kogyo Tsuyaku" offers translation services for technical meetings, ISO/TS and other audits, and machine installation and run off.
For the trade shows in Japan for overseas exhibitors, we also provide sales promotion service. (Sales promotion needs 1 - 2 hours advance meeting to review your products/ technologies)

Field of Experiences:
Audit: ISO/TS, SNI (Indonesian Quality Management Systems), PPAP, GMS, etc.
Machine run off: Installation, modification, overhaul, run off, sign off (Safety, Machine integration, PLC, robbot control, mechanical/electrical changes, etc.)
Technical trainings: Internal or external trainer's translation support (Electrical, Control, Mechanical, Maintenance, Safety, Quality, etc.)
Business meetings: Technical meetings
Automotive Production: Welding, Stamping, Casting, Plastic molding, Painting
Trade show: Grind Tech Japan 2019, FoodEx, Tokyo Motor Show

Transportation Escort in Japan: Airport pick-up, escort to and from the meeting venue can be included upon request.

Contact us:
For details, click "Contact Us" button.